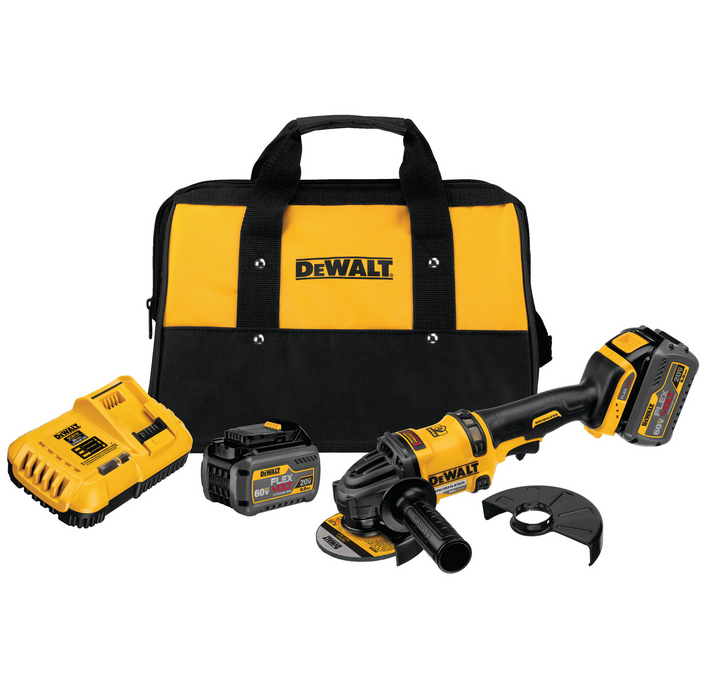 FlexVolt® 60V Max* 4.5" Grinder Kit (2 Batteries)
The FLEXVOLT 4-1/2 in.-6 in. Grinder with Kickback Brake is maximized for power and durability. It delivers 13-amp power with the portability and convenience of cordless through revolutionary FLEXVOLT technology. It comes with two FLEXVOLT 20V/60V MAX* batteries, a charger, and a kit bag.
Features:
13 Amp Equivalent Motor as Compared to a D28144 Corded Unit
Brake engages when trigger is released, stopping speeds of 1.5 seconds with standard grinding wheel (4-1/2 in. x 1/4 in. Bonded abrasive wheel, non-hubbed)
Kickback Brake engages when a pinch, stall, or bind-up event is sensed and the electronic brake engages with maximum force to quickly stop the wheel, reduce the movement of the grinder, and shut the grinder off.
Anti-Rotation E-CLUTCH® System activates in less than a tenth of a second when a pinch/stall is detected, shutting down the motor.
9,000 RPM Speed allows the use of up to 6 in. wheels
Allows for up to 6 in. wheel size for both cutting and grinding applications.
Specifications:
Battery Type: Lithium Ion
E-Clutch® / Overload Protection: True
Max Watts Out: 1700W
No Load Speed: 9000 RPM
Peak Horsepower: 2.2
Spindle Size: 5/8 - 11 in
Switch Type: Trigger
Tool Weight: 4.66 lbs
Trigger Lock-On: False
Wheel Diameter: 6"
Includes:
DCG414 Grinder, (2) DCB606 FLEXVOLT 20V/60V MAX* Lithium Ion Batteries, Fast Charger, Side Handle, 4-1/2 in. Type 27 Wheel, 4-1/2 in., Type 27 Guard, 6 in. Type 27 Guard, Wrench, Flanges and Kitbag
Contact:
For questions or concerns, please feel free to contact us online, or call us directly here at (248) 348-8864.
Hours of Operation:
Monday-Friday: 7am-5pm
Saturday/Sunday: CLOSED
Pricing/Availability:
*All items are subject to availability. We will make our best efforts to inform you as soon as possible if the goods you have ordered are not available or if shipment may be delayed. All prices are subject to change without notification.
Order Delivery / Pick-Up:
Select items / orders are available for pick-up and/or delivery, if interested, please contact us to determine what your best option will be. We can provide you with a quote on an estimated delivery charge or schedule a pick-up time for your order.