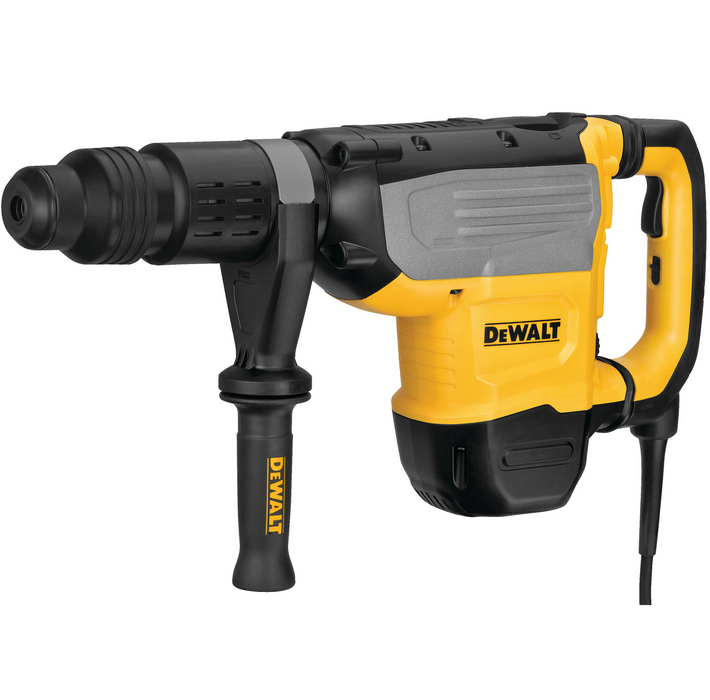 Dewalt® 2" SDS MAX Rotary Hammer D25773K
The D25773K 2" SDS MAX Combination Hammer, with its durable and hard hitting German engineered mechanism, delivers category leading 19.4 Joules of impact energy. Constant speed electronics allows the tool to maintain speed under load, even in the hardest concrete, while the patented E-Clutch ® system protects the user in bind up situations by stopping the rotation of the bit. This tool is ideally suited for horizontal and downward drilling for #7 - #14 rebar applications, core drilling up to 6" and chipping in any mid-to-lower wall and floor applications. Active Vibration Control® technology also reduces vibration felt by the user for less fatigue and greater productivity. This tool comes Tag Ready(TM), so users and companies can attach the DEWALT Tag(TM) and track its location virtually anywhere via the DEWALT Tool Connect(TM) app.
Features:
In addition to the integral clutch, the DEWALT anti-rotation E-Clutch® system, offers technology capable of detecting the motion of the tool. This feature senses the motion of the tool and shuts it down if necessary. The red indicator LED illuminates when the E-Clutch® System is engaged.
Protects user from the effects of vibration, including numbness and tingling in the hands, allowing them to get work done more quickly without fatigue.
Tool maintains speed under heavy loads, including in higher PSI concrete, allowing the user to get the job done faster.
Offers users more control by adjusting speed of drilling or chipping based upon the thickness and density of the material they are working with.
Gives users the ability to drill and demolish concrete in one tool, saving them money by not needing to buy and maintain 2 tools.
Service brush light near the handle notifies the user when it's time to take the tool in for service.
Specifications:
Amps: 15 Amps
Blows / Min: 1,105 - 2,210 BPM
Impact Energy: 19.4 Joules
No Load Speed: 145-290 RPM
Optimal Concrete Drilling: 7/8 - 1-7/8 in
Tool Height: 11.5 in
Tool Length: 23.3 in
Tool Weight: 23.2 lbs
Vibration Measurement: 12.4

m/s²
Contact:
For questions or concerns, please feel free to contact us online, or call us directly here at (248) 348-8864.
Hours of Operation:
Monday-Friday: 7am-5pm
Saturday/Sunday: CLOSED
Pricing/Availability:
*All items are subject to availability. We will make our best efforts to inform you as soon as possible if the goods you have ordered are not available or if shipment may be delayed. All prices are subject to change without notification.
Order Delivery / Pick-Up:
Select items / orders are available for pick-up and/or delivery, if interested, please contact us to determine what your best option will be. We can provide you with a quote on an estimated delivery charge or schedule a pick-up time for your order.