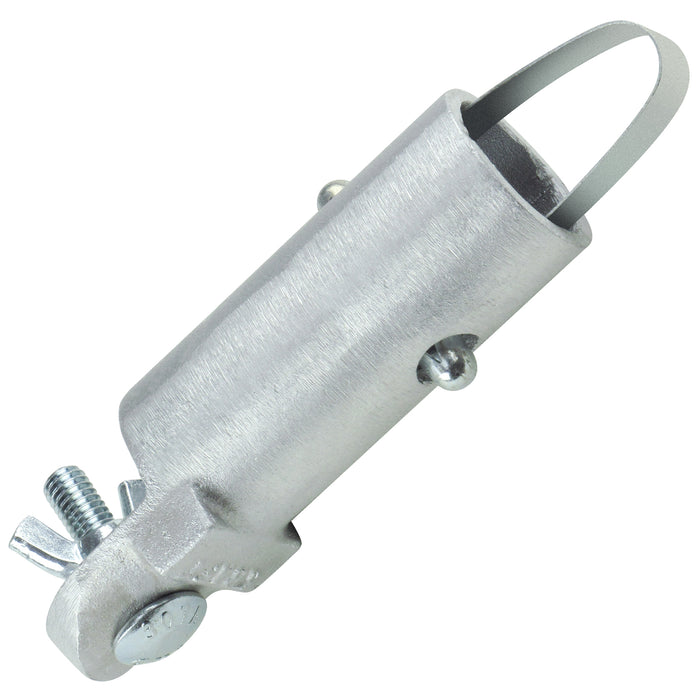 EZY-Tilt® Fresno/Broom Adapter for Button Handles
Expand the use of your tools with this adapter. Strong cast aluminum construction Allow finishers to use lightweight button handles with clevis style bracket assemblies. Tool attaches to clevis bracket to use with 1-3/8" or 1-3/4" button/snap handles. Adapts clevis style tools such as fresnos, brooms, walking edgers, and walking groovers to snap style handles. Extremely versatile adapter works with both 1-3/8" and 1-3/4" diameter button handles. Proudly made in the USA.
SAFETY FIRST: Metal extension handles should not be used near electrical wiring.
Strong cast aluminum construction
Connects Button Handles to Clevis Brackets
Use for floats, fresnos, brooms, and other clevis brackets
Fits both 1-3/8 in. and 1-3/4 in. diameter button handles
Versatile adapter
Made in the USA.
For questions or concerns, please feel free to contact us online, or call us directly here at (248) 348-8864.
Hours of Operation:
Monday-Friday: 7am-5pm
Saturday/Sunday: CLOSED
Pricing/Availability:
*All items are subject to availability. We will make our best efforts to inform you as soon as possible if the goods you have ordered are not available or if shipment may be delayed. All prices are subject to change without notification.
Order Delivery / Pick-Up:
Select items / orders are available for pick-up and/or delivery, if interested, please contact us to determine what your best option will be. We can provide you with a quote on an estimated delivery charge or schedule a pick-up time for your order.
Shipping Charges:

*Please note that due to the range of sizes of our items, additional shipping fees may incur based on location / dimensions of package. Your initial shipping charge will be used as a deposit to reserve your item, if any additional fees occur we will contact you directly to discuss your options.