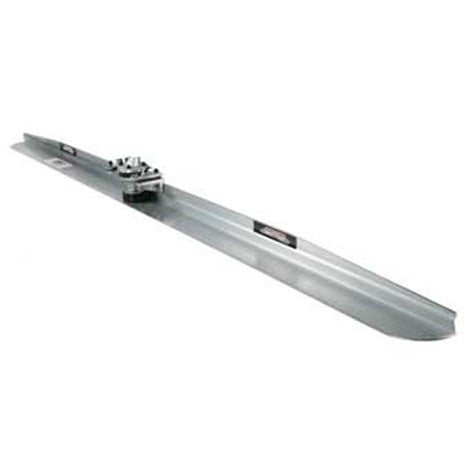 The Magic Screed is a precision engineered, lightweight wet screed for single operator strike-off of concrete. Fast and easy to use, this high-frequency screed provides uniform distribution over the entire blade length, enhancing structural integrity of the concrete through consolidation.
BARS LONGER THEN 10' ARE NOT AVAILABLE TO SHIP VIA UPS or FEDEX AND CAN ONLY SHIP LTL TRUCK FREIGHT.
PLEASE CALL TO REQUEST A LTL FREIGHT QUOTE IF INTERESTED
Vibrating blade does not require any support to float on the concrete surface
Integrated anti-vibration supports eliminate handle vibration
Two handles provide total leveling control and accuracy
Screed Bar Material: Aluminum
Blade Finish: Polished
For questions or concerns, please feel free to contact us online, or call us directly here at (248) 348-8864.
Hours of Operation:
Monday-Friday: 7am-5pm
Saturday/Sunday: CLOSED
Pricing/Availability:
*All items are subject to availability. We will make our best efforts to inform you as soon as possible if the goods you have ordered are not available or if shipment may be delayed. All prices are subject to change without notification.
Order Delivery / Pick-Up:
Select items / orders are available for pick-up and/or delivery, if interested, please contact us to determine what your best option will be. We can provide you with a quote on an estimated delivery charge or schedule a pick-up time for your order.
Shipping Charges:

*Please note that due to the range of sizes of our items, additional shipping fees may incur based on location / dimensions of package. Your initial shipping charge will be used as a deposit to reserve your item, if any additional fees occur we will contact you directly to discuss your options.